From decorative to compostable, our products have the versatility to meet all the needs of your clients. Offering a unique way to entertain your guests while reducing waste and limiting our ecological footprint are just a few of the ways we encompass our business values.
Our cornerstone product is the Edible Spoon. It is made of all natural, local, and sustainably sourced ingredients and are 100% compostable. We offer a variety of flavors from savory to sweet that compliment your favorite food pairings. Check out our 19 creative flavors below.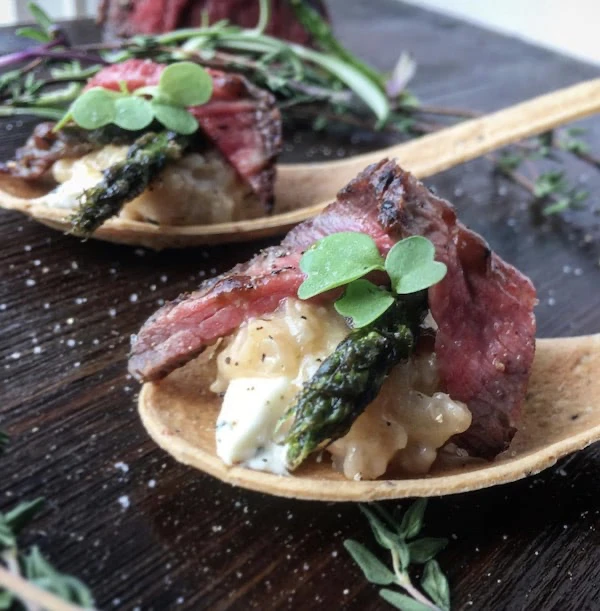 Customer's Journey
Testimonials
I have used FlavorFulz (Edibles By Jack) for years now. Their product is amazing and it has helped me elevate our menu selections when it comes to Hors d oeuvres and Desserts. 
– Jay Varga, Camp Hill, PA
The JDK Group Catering and Events
There are so many amazing flavors, it allows us to be creative and present a new twist on an old recipe!  This is an Excellent product
– Lon Lane, Kansas City, MO
Lon Lane's Inspired Occasions
We love FlavorFulz (Edibles By Jack)! The Parmesan Black Pepper spoons are a huge hit with our clients and working with them has always been super easy, very reliable, and has consistent product and quick delivery!
– Rachael Livingston, Brooklyn, NY
Bartleby & Sage
Flavor Pack
Get a sample of 19 flavors for $19.
Deconstructed "Pot Pie" Diced Chicken, Peas, Carrots, Scoop of Mashed Potatoes
Cilantro Cumin Lime
Diced beets, fresh basil, fried goat cheese
Parmesan Basil